Aged care, where men "age well, together"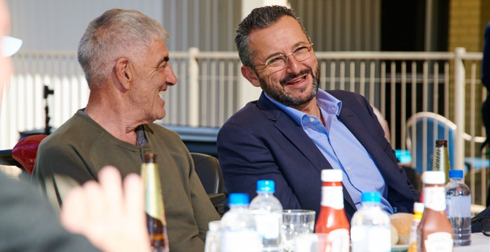 Social connection with others is beneficial at any age, but for our senior Australians, it's instrumental in maintaining positive health and overall well-being.
Determined to make a difference to the lives of seniors, award-winning aged care provider Whiddon, is promoting International Men's Health Week (12 June – 18 June) with its 'Age Well, Together' campaign.
The advocacy campaign seeks to encourage men to explore their passions and hobbies as they approach their older years in life through programs such as Whiddon Men's Shed's. It's important providers like Whiddon continue these initiatives to support seniors as they age.
"The impact of the men's shed goes beyond the projects happening here, it's about the important conversations you have with your mates. As, men we find it hard to talk about ourselves and our feelings, I get it. But it is important that we support your needs and bring everyone together and that's what 'Age Well, Together' is about," said Whiddon's CEO, Chris Mamarelis (pictured below).
"Today is about getting us all together, celebrating men and the work Whiddon do to support our residents. Sometimes we lose sight of supporting each other, and we're trying to shine a light on the men in aged care, the men in our community to create more meaningful connections and meet the needs of our men."
On Wednesday, Whiddon celebrated International Men's Health Week and "Age Well, Together" by bringing together residents, Men's Shed volunteers, Whiddon staff and local business supporters. The exciting lunch event was held at Whiddon Easton Park Men's Shed in Glenfield in Sydney's South West.
Whiddon, which operates in NSW and QLD, recently released the findings of an internal qualitative 'LIFETIME Wave 4 Report', highlighting the importance of social connection and impact of gender on resident and client well-being and quality of life.
Males were more highly associated with negative outcomes such as social isolation and were less inclined to join in activities on offer. Emphasising the importance of activities such as Mens' Sheds and developing further activity initiatives to specifically engage men.
The significance of mental health, especially as people age, cannot be overstated. 
Whiddon and agedcare101.com.au encourages all people to make connect with someone near you, or with a local community group.