All aboard for healthy minds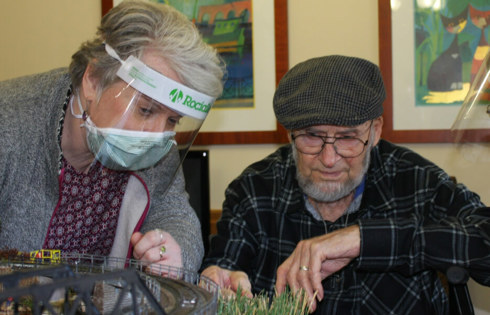 A Queensland aged care home has set up a model train room with the help of Dementia Support Australia (DSA) to help residents keep their minds active.
Estia Nambour launched the pilot project to help six residents, one of whom is a retired train driver; the layout features miniature Nambour shops, a sugar cane farm, and a golf course, with more expansion in the works.
It has proven a smash hit with residents: a weekly men's group has been set up; the home has formed connections with community groups like Sunshine Coast Model Railway Men's Shed, Nambour Library; Nambour Genealogical Society; and it even featured on ABC TV.
According to DSA Head of Professional Services Marie Alford, the train project is one example of how the organisation works with aged care homes and health professionals on tailored programs to help residents living with dementia.
"This model train project is fun but it also has an important role of providing meaningful engagement for residents and helps bring back memories.
"We are pleased to see how the work of DSA consultants has added to the quality of life of all Estia Nambour residents, not just the identified group," she said.