Centenarian publishes his memoir with the help of friends and family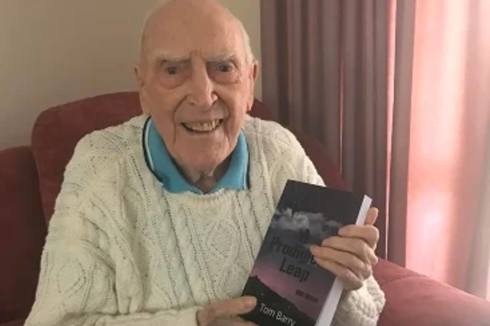 A World War II veteran has released a memoir of his extraordinary life to coincide with his 100th birthday.
Tom Barry, a resident of Bolton Clarke Bicentennial in Mackay, Queensland, has published "A Prodigious Leap" – which he describes as "a story about me, from A-Z" – after 15 years of hard work writing, dictating, and editing his life story.
"I started writing my story on the computer, but I progressively lost my sight over a number of years. I had to keep increasing the size of my font, toward the end I was only fitting five or six words on a line and mixing up the letters.
"I called it a rough copy, and it was rough indeed because my wife Ann couldn't even read it!" he said.
The book, written with the help of Ann, his late daughter Joanne, Bolton Clarke At Home Support staff, and close friends – as well as the Mackay Regional Arts Development Fund – tells the story of his childhood in Sunderland in the UK right through to the end of his service in World War II.
It will be launched as part of a 100th birthday celebration on Saturday 30 July.