MYVISTA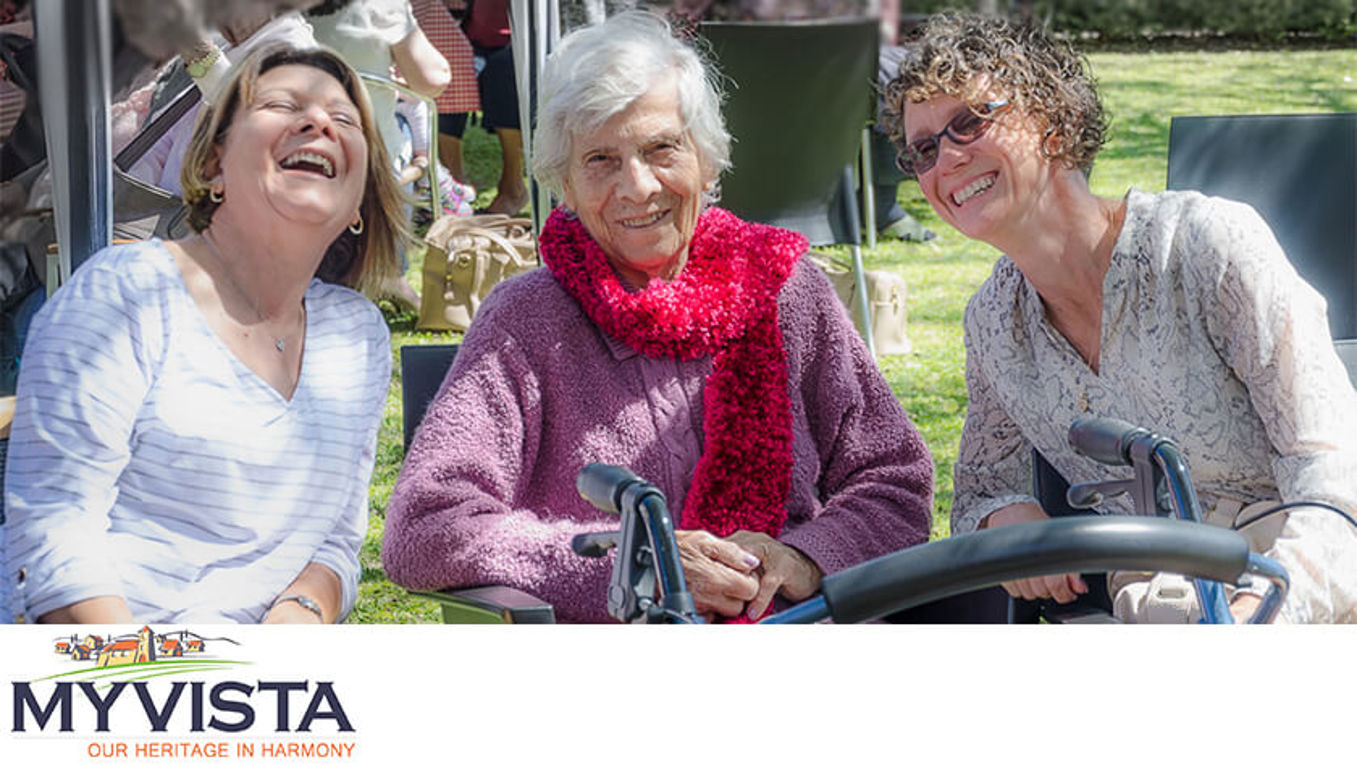 Residential Aged Care
MYVISTA is a fully accredited, not-for-profit Aged Care provider located in Balcatta. We are a Culturally and Linguistically Diverse (CALD) association and provide high quality, residential aged care accommodation for 102 residents with varying levels of individual needs.
MYVISTA embraces all cultures and cares for residents from a broad range of cultural backgrounds. European and Mediterranean history and traditions are often reflected in the food, music and activities at MYVISTA along with recognition of the spiritual needs and services for all religious denominations.
We have a very strong network of enthusiastic volunteers, who provide additional opportunities for residents and further broadens the cultural diversity we are so proud of.
A unique and flexible approach to staff rostering allows us to say that we have not used agency staff in our residential aged care facility for many years as we feel that continuity of care provided by regular and familiar staff further enhances residents' well-being and comfort.
A new MYVISTA development is planned for Mirrabooka and due to be completed in 2018/19. This new aged care facility will feature modern technology along with excellent design and equipment that assists with provision of aged care and services.
Retirement Village Units
Alongside the residential aged care facility is MYVISTA's Retirement Village, comprising 43 independent living units for over 55's. Villas are two or three bedroom, with open plan living and dining areas and either one or two bathrooms, a laundry and carport or garage.
Set in beautifully landscaped gardens, the Village includes a clubhouse and heated indoor swimming pool. Village life here is relaxed and social. Privacy is respected along with the opportunity to participate in planned activities and events that support a real sense of community.
Home Care Services
Maintaining independence is important to everybody. MYVISTA Home Care offers a range of support services, so elderly members of the community can remain living in their own home with confidence.
Services are individually tailored to meet specific needs to support independent living, personal and social connections and increased quality of life. Knowing that help is around for their loved one when they can't be, gives family members real peace of mind.
To fully appreciate MYVISTA and the services we have to offer, I encourage you to talk with our Customer Service Officer who will answer all your questions and guide you through the process every step of the way.
The aim of every staff member at MYVISTA is to meet and exceed our customers' expectations of care in this stage of their life's journey. At MYVISTA, we care. It's in everything we do.