New "stacked cottage" aged care home opens in Miranda this year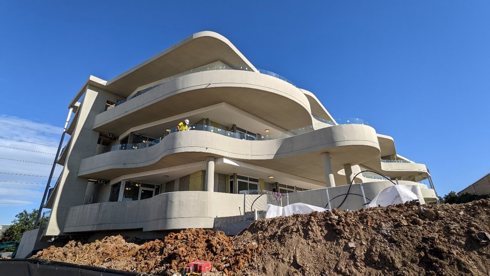 HammondCare's new multi-storey aged care home at Miranda, NSW, which features a "stacked cottage" model, is set to open later this year.
Miranda Mason is a 60-bed, three-floor home with two apartments of 10 residents each per floor. Each apartment will have a front door and lift front porch, with two floors additionally having balconies.
According to HammondCare General Manager Property & Capital Works Seamus van Westhuizen, the project is expected to be handed over by builders Total Construction for final fit-out in September.
"Multi-storey configurations present a number of design challenges – the most significant being firstly, how to provide direct access to quality outdoor spaces; and secondly, how to create a residential, non-institutional feel for residents and visitors.
"We look forward to the first residents moving in later this year," he said.
Miranda Mason will provide residential aged care services for the nearby HammondGrove independent living units as well as the rest of the Sutherland Shire.