Private health cover costs – are consumers being ripped off?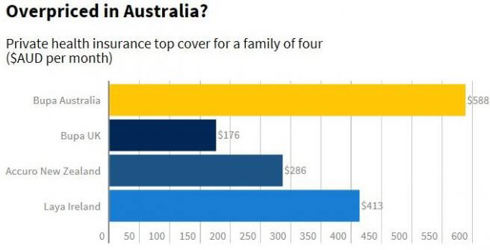 Private health cover costs have risen 35 per cent since 2010 – are consumers being ripped off?
That's well above the inflation rate. Australians paid a massive $22 billion in premiums over the last financial year.
In the latest rate rise approved by the Federal Government back in April, that figure increased by another 5.59% – for the average family, that works out to an extra $200 a year they need to pay. However, average household income grew by just 1.8 per cent during the same time.
We're also getting less return for our hard-earned dollars too. Payouts have dropped by 2.7 per cent in the last quarter to $1.2 billion.
Meanwhile, private health funds swelled their coffers by 8.9 per cent before tax according to figures from the Australian Prudential Regulation Authority.
First drop in 15 years
It's no surprise then that data also shows private health fund membership for both hospital-only  and hospital plus extras has fallen for the first time in 15 years from 47.4 per cent in June last year to just 47 per cent in June 2016.
That's doesn't seem like a dramatic drop. But that equates to 2,958 more people who are putting into the private sector and are now depending on the public system to foot their medical costs.
More than 13 million Australians currently have private cover, with most over 50. Of these, nearly half only have an annual income of less than $50,000 says Private Healthcare Australia.
Most of us can't afford to keep shelling out for increasing premiums.
Almost 70 per cent want to get rid of their cover
Nearly 70 per cent of Australians with private health insurance have considered getting rid of or downgrading their cover in the last year, a new ReachTEL poll commissioned by the Medical Technology Association of Australia says.
Another 80 per cent thought that health insurers put profits before patients and over 90 per cent believed they are trying to "Americanise" our health system.
In the poll, which surveyed over 1,000 people, 50 per cent blamed health insurers for the rises, while 25 per cent pointed the finger at the Federal Government.
Private insurers attribute the premium hikes to the rising costs of healthcare in Australia. They are lobbying the Federal Government for changes to the Prostheses List – which sets the prices for medical devices such as pacemakers and hip and knee replacements – that could save them $800 million a year.
Its prices were set in 2006 and haven't fallen since.
The funds say the changes would allow them to cut premiums by between $150 and $300 depending on the policy.
Only 20 per cent of those polled trusted insurers to pass on those savings to consumers though.
The MTAA say that they are not responsible for the increase in costs however.
"Our industry accounts for 14 cents in every dollar paid in reimbursements by private health insurers under their hospital cover policies," chief executive Susi Tegen said. "We need to look at the other 86 cents that's driving up premiums, and more importantly, the risk model PHI industry utilises."
Time to change the system?
One thing is clear though – if premiums don't drop, it will be us who pays the price.
"If health insurance membership drops to pre-2000 levels, Australian taxpayers would need to fund at least an extra 8% public hospital beds," Private Healthcare Australia's Chief Executive Officer Dr Rachel David says.
Currently 66% of elective surgeries are done in the private sector. Fewer people with private cover will blow out waiting times in the public system and further burden the health budget's bottom line.
The Government announced last week it will reform the Prostheses List Advisory Committee and set up a new Private Health Ministerial Advisory Committee, promising consumers "better value for money".
The question is now: will it make a difference?
Are you thinking about dumping your private health cover? Let us know in the comments below.
http://www.health.gov.au/internet/main/publishing.nsf/Content/phiconsultations2015-16
http://www.health.gov.au/internet/ministers/publishing.nsf/Content/health-mediarel-yr2016-ley057.htm
http://www.apra.gov.au/MediaReleases/Pages/16_25.aspx
http://www.apra.gov.au/PHI/Publications/Pages/Statistical-Trends.aspx
http://mtaa.org.au/docs/media-releases/160918---new-polling-shows-private-health-insurance-puts-profits-before-patients.pdf?sfvrsn=2