Ukrainian grandmother celebrates 90th birthday after safe arrival in Australia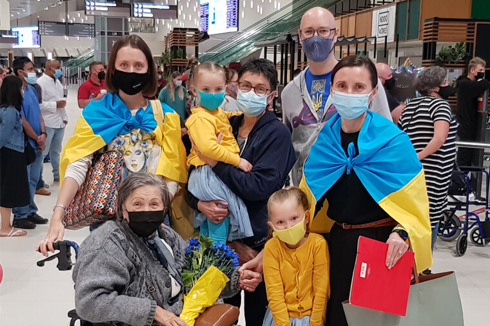 A Ukrainian refugee grandmother has turned 90 in Australia after finding a new home at Regis Nedlands in Perth.
Tamara Plastovets, who came to Perth in April with her daughter Olena, joined her granddaughters and their families following a long journey and was soon placed in Regis Nedlands after a meeting with Nedlands Mayor Fiona Argyle, Ukrainian ambassador to Australia Vasyl Myroshnychenko, and the local Ukrainian association.
Olena Yukhymets, Tamara's granddaughter, said it felt "like a miracle" to have found her grandmother somewhere to live close to her and her sister's homes.
"When war started in February my mother and grandmother had no intention of leaving Ukraine; when the air raid sirens went off during the night they'd go down to the basement, though my grandmother was too frail to walk down the stairs and it was just too cold down there for her.
"After they had no choice but to flee to Poland, we were so grateful that the Australian government granted them a visa, and then to receive this offer of a real sanctuary for my grandmother here in Perth is just incredible.
"Regis Nedlands looks just like a five-star hotel and not like how we imagined an aged care home to look at all, everyone we've dealt with there has been so helpful and kind," she said.