Viewing art helps dementia sufferers and their carers, new research finds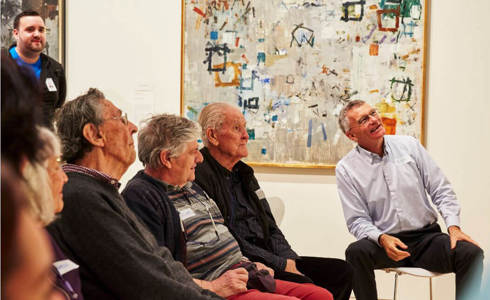 Looking at art can benefit people with dementia by taking away the anxiety of trying to recall things, a study on the dementia access program run by the Art Gallery of New South Wales has found.
Dr Gail Kenning from the University of Technology in Sydney conducted the study of the program, which has been running at 2010, said the findings showed people were able to experience the "in the moment" pleasure of looking at art, rather than worry about memory.
The program runs every moth at the Gallery and involves guides taking people with dementia and their carers through a carefully curated collection of artworks. Participants, who have both mild and more severe dementia, are encouraged to talk about the works, with the guides as well as with their families.
These artworks include iconic Australian masterpieces as well as pieces from international touring exhibitions and annual exhibitions like the Archibald, Wynne and Sulman Prizes.
It was modelled on a similar program at the Museum of Modern Art in New York, and is supported by Alzheimer's Australia NSW and a private donor.
The Art Gallery of NSW head of learning and participation, Heather Whitely, said the Gallery places great importance on its program.
"The transformative nature of art engagement for people with specific needs cannot be underestimated," she said.
The Gallery is now hoping to take the program into aged care homes (nursing homes) around NSW, for people who cannot visit the gallery in person.
With Dementia Awareness Month running from September 1 to 30 with the theme 'You are not alone' – it's a good reminder to reach out to people with dementia and their carers.
You can see an ABC News video about the program here.
Find out more about Dementia Awareness Month here.
DEMENTIA IN AUSTRALIA – THE FACTS
There are 353,800 people living with dementia in Australia and this number is expected to rise to 400,000 in less than five years
Three in ten people over the age of 85 and about one in ten people over 65 have dementia
There are also approximately 25,100 people in Australia with Younger Onset Dementia, a diagnosis of dementia under the age of 65 including people as young as 30)
An estimated 1.2 million people are involved in the care of a person with dementia
6 in 10 Australians admit they know very little about dementia
There is information and support available. Call the National Dementia Helpline on 1800 100 500 (interpreter service available)