Warning: 5,000 people end up in hospital after falling from a ladder each year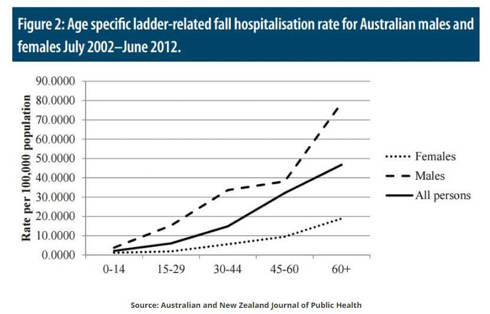 Researchers are cautioning older people, particularly men, to be careful around the home after a new study showed the number of people suffering a ladder-related fall has jumped by nearly 50 per cent in the past ten years.
Published in the Australian and New Zealand Journal of Public Health, the research by Queensland's University of Technology found there had been a steep rise, from 3,374 hospitalisations in 2002/03 up to 4,945 in 2011/12 – an increase of 47 per cent.
The group most in danger were men aged over 60.
Associate Professor Kirsten Vallmuur used the example of the serious injuries suffered by veteran television presenter Molly Meldrum, who fell from a ladder while putting up Christmas decorations almost five years ago when he was 65.
"Older men just don't bounce back as well as younger men," Prof. Vallmuur says. "They often have other existing health problems, including fragility, eye-sight and balance issues which potentially escalates their risk."
A bigger risk for older people
Of the 226 patients who had died as the consequence of a fall, 82 per cent were over 60.
The data also showed a similar increase in falls for women aged over 60.
Of the hospitalisations, two-thirds of cases were for fractures, mainly of the arms, legs, torso and spine, along with head injuries, with the injuries suffered by those over 60 generally more serious.
"While fewer than 10 per cent of people aged under 60 had a length of stay in excess of one week, more than 20 per cent of those aged over 60 had a length of stay of longer than a week in hospital," Prof. Vallmuur said.
Perhaps most concerning, nearly 80 per cent of the falls happened at home, not at work. This was attributed to the growing popularity of "doing it yourself" as more people take on renovations and improvements to their home themselves.
The University are still conducting a further study into why these falls happen, but early indicators point to risk factors such as over-reaching, inappropriate footwear and unsteady or unstable surfaces.
Certainly it's enough to make you think again before you put a foot on that ladder.
Product Safety Australia has launched a national education campaign 'Ladder safety matters' to encourage older Australian men to stop and think before they use a ladder.