Wheelchair-accessible bus will help Port Pirie seniors on the move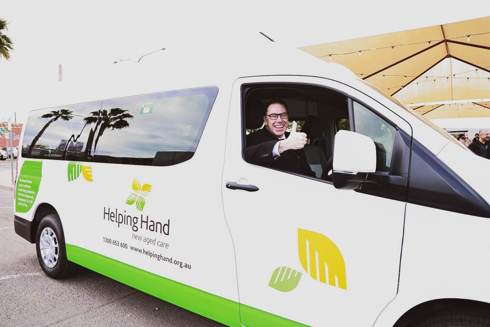 Residents at Helping Hand's Lealholme aged care home in Port Pirie, South Australia, will have an easier time getting around town with a new accessible 12-seater bus.
The bus – which cost $90,000 and comes with a built-in wheelchair lift – was made possible thanks to fundraising efforts by the local community, as well as a combined $33,000 in donations from the Freemasons.
According to Helping Hand Chief Executive Chris Stewart (pictured), the bus will give residents more opportunity to get out and about on excursions after two years of COVID restrictions, while also reducing the reliance on wheelchair-accessible taxis or lifts from good Samaritans.
"Whether it be through the cake stalls, raffles, market stalls or garage sales we've held, the Port Pirie aged care community will benefit from having a new bus around town. It has been a team effort to meet our fundraising milestone.
"This will enhance the lives of Lealholme residents, and their families have been telling us how much they're looking forward to being out more often and having more social opportunities. Having a new bus will encourage independence, stimulate memories and interaction, and bring more light to many people's lives," he said.