Hike in aged care complaints not the full story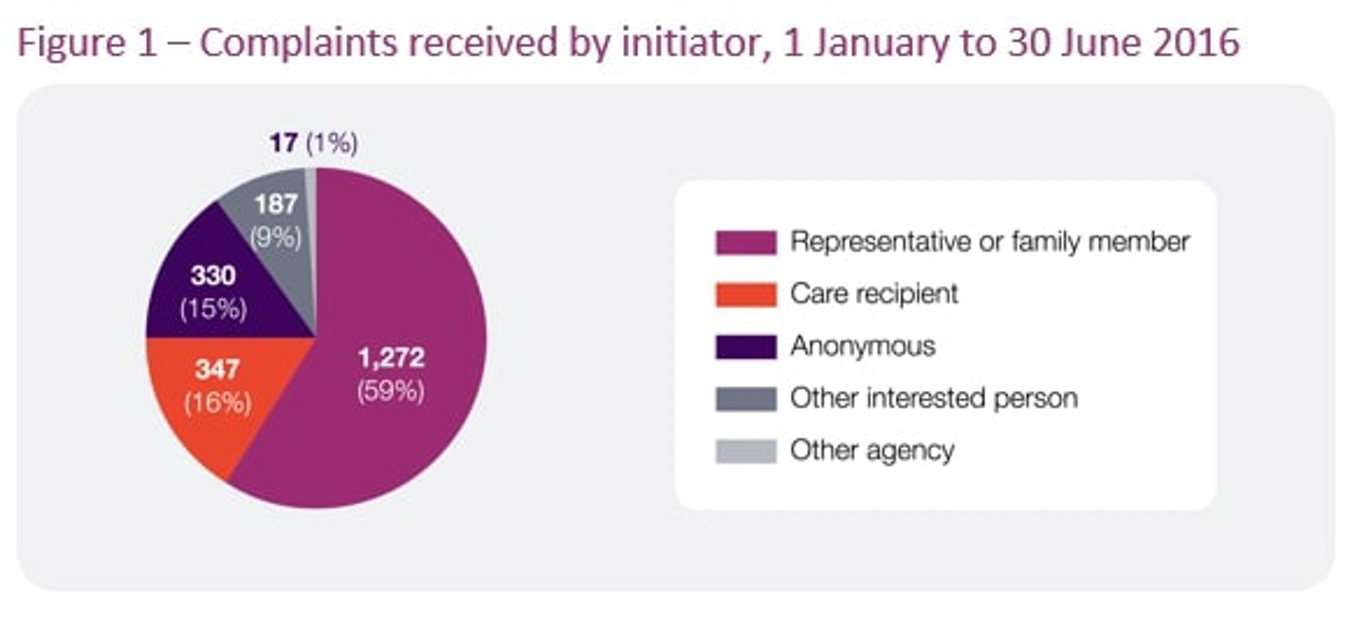 The newly formed Aged Care Complaints Commissioner released their first annual report last week, with press quick to jump on a 'spike' in complaints as shown in this story here.
The Commissioner, which was established on January 1, handles any complaint related to Government-funded aged care or home care, and took over the role from the Department of Health after long-time criticism of the scheme's lack of independence.
The report shows over 5,000 people contacted the Commissioner in their first six months – but what's the real story behind this figure?
Around 1,600 of these queries related to issues outside the Commissioner's control, including complaints about retirement villages which fall under state regulations. Another 1,400 were enquiries, an increase of 23 per cent on the previous six months.
The number of formal complaints was actually around 2,100, with nearly 60 per cent from concerned family and friends of people in residential aged care. Another 16 per cent were from people in care themselves, and 25 per cent were anonymous, from friends or referrals from other agencies.
An 11 per cent increase
Overall, the number of complaints increased by 11 per cent – from 1,938 to 2,153 – from the same period in 2015.
However, Commissioner Rae Lamb put this down partly to the widespread media publicity surrounding the change from the Department of Health: "This may be due to the transition to an independent Commissioner and the public becoming more aware of the office and the support we can offer," she writes in her foreword.
Of these, 80 per cent were about aged care. The majority of these complaints related to clinical care, a total of 267, followed by the administration of medication (200), continence management (178) and the choice and dignity of the person receiving care (163).
Another 18 per cent related to home care packages and the Commonwealth Home Support Programme, a jump from 12 per cent in 2015. These generally regarded fees and communication between the service and the person receiving care, with the remaining one per cent of complaints concerning flexible and community support services.
Adding up the numbers
It sounds like a lot, but we need to remember there are 190,000 people living in residential aged care in Australia. Many are frail, living with poor health and in need of 24/7 care.
The 2,100 complaints resulted in 49 site visits out of 2,900 care facilities – of these, 35 were announced and 14 were not.
Commissioner Lamb also made 231 referrals to other organisations, including 120 to the Aged Care Quality Agency, which looks after government-funded aged care homes (nursing homes).
Overall, that's a total of 120 real referrals out of 2,100 complaints – just six per cent. While the figure should ideally be sitting at zero, it's a number that could potentially be much larger given the number of people in nursing care.
Aged care providers welcome findings
Paul Sadler, Chief Executive Officer of Presbyterian Aged Care NSW & ACT and President of Aged & Community Services Australia (ACSA) said he was pleased the report confirmed that the level of complaints in aged care remained low as a proportion of all residents and clients. "I believe this does reflect that, overall, people are happy with the services they receive," he said.
He also points out the rise in complaints about home care coincided with the introduction of consumer directed care budgets and statements for people who were already clients from mid-2016. 
"Understandably, a change of this magnitude and complexity resulted in instances where people were dissatisfied," he says. "In some cases, this was a direct result of cuts as individuals service levels were readjusted to fit within the Home Care Package Level they were funded for."
The report also highlighted the fact most complaints were dealt with reasonably quickly, with 91 per cent of complaints finalised within 90 days, and an early resolution worked out for 87 per cent of these.
For over 30 per cent of these cases, no further action needed to be taken to resolve the issue. Often this was because the complaint was either withdrawn or the person involved didn't want any follow-up.
An opportunity to improve care
It's also the first time this information has been available in this way – the previous Aged Care Complaints scheme never had an annual report, making it welcome news for people in residential; care, their families, providers and staff who want a real picture of what's happening in aged care.
Commissioner Lamb concludes the report with a valuable point, based on her own experience, and the findings of international studies, which is that very few people who have reason to complain actually do so, particularly in areas of health and aged care. As a result, they offer an important opportunity to improve the quality of care.
"This is why our primary objectives are to resolve, protect and improve," she says. "To make sure that when someone takes the time and effort to make a complaint, it makes a positive difference to care and services."
Isn't that what we all want?
You can read the full report here. 
Complaints to the Aged Care Complaints Commissioner can be made by telephone on 1800 550 552 9am to 5pm on weekdays or to leave a phone message, mail or on their website using an online complaints form.